In the heart of Middle East over Arabian Peninsula lies United Arab Emirates (UAE). It's comprised of seven states we refer to as Emirates that includes Abu Dhabi and Dubai, the two renowned cities and traveller's paradise. Before becoming a primary oil exporter, UAE's economy was based on fishing and pearl industry. During the 1960s, rise of oil industry brought massive infrastructure development that reached its climax during 21st century. This happened when Dubai became international centre of tourism and finance in the entire Middle East.
Burj Khalifa
Unimaginably standing at 2,717 feet, Burj Khalifa is currently the tallest building in the world with a height, twice as that of Empire State Building. Residential apartments, suites and hotels accumulate most of the space with an observation deck from where you can dig in a breathtaking view of Dubai. First time travellers should visit Burj Khalifa and witness the mighty construction, learn about building's history and take 360-degree view of Gulf!
Palm Islands
Yet another grand project in Dubai is Palm Islands featuring three manmade islands. The title comes from its palm tree shape and crowns jutting into Persian Gulf. You can enjoy the view from an airplane or helicopter flying directly above the islands that house commercial and residential projects. The three isles are named Palm Jebel Ali, Palm Jumeirah and Palm Deira accessible by taxi or tourist buses. Visitors can enjoy water sports, restaurants, hotels, beaches and shopping.
Qasr Al-Hosn
The white walled fortress in heart of Abu Dhabi, Qasr Al-Hosn is city's most historical landmark. The site served as seat of power for nearly two decades till 1960s while construction itself dates back to 18th century.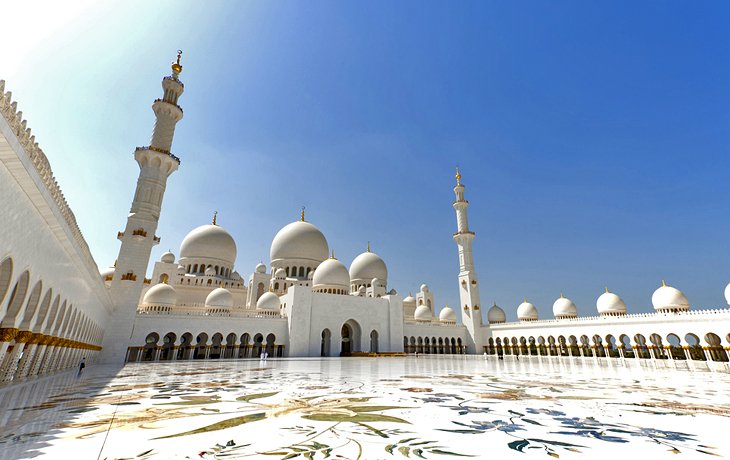 Sheikh Zayed Masjid
Sheikh Zayed Masjid inaugurated in 2007 being the largest Muslim's praying area in the world and UAE itself. It's named after Abu Dhabi's ruler and can accumulate more or less 40,000 people. All visitors are requested to respect Muslim religious customs and wear appropriate clothing.
Conclusion
While asking yourself "what to see in Dubai and Abu Dhabi", check out the above post and do visit once in a lifetime.