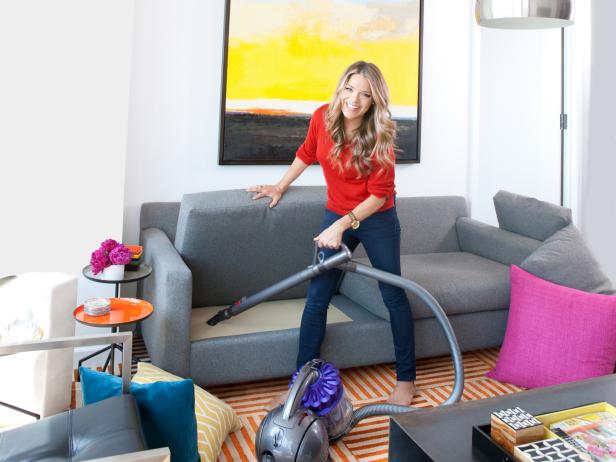 Cleaning a house may sound fairly easy and simple but when you actually think of doing so, where to start with is the first thing that crosses the mind. House cleaning isn't just limited to bedroom and kitchen but every corner counts from the bathroom to even your lawn. All of it is seemingly overwhelming so let's make it easy by streamlining the entire process. And once you start, there's no stopping till the entire house is spotless.
Make a plan
Decide first how much clean you want the house to be and any specific corners that need deep treatment. Make a rough outline of total time it would take to complete the entire task and compare with how much time you actually have. This would help you to schedule cleaning however, be honest about what you can actually do; no assumptions or false hunches.
Work all the way from top to bottom only if possible. Apparently, you don't want to vacuum first and then get the crumbs or dust over cleaned areas. If you lack time, get rid of the clutter first to get things done more seriously. For an "average" busy person, it's much better to clean a little bit every day to prevent mess from accumulating.
Begin with the toilet
You may find it disgusting but cleaning the toilet is among the basics! Put on a pair of gloves and make sure they're separate to those you wear while doing the dishes. The gloves would protect your hands from grime and bacteria as you give the toilet a gentle rub with a sponge and hot water. Squirt toilet cleaner inside the bowl, around the rim and let it sit for a few minutes. Scrub it down and flush the tank in the end or you can fill a bucket of hot water and wash.
Do the dishes
This is going to be fairly easy if you've an automatic dishwasher however the contraption isn't fit for all the cutlery, especially bulky or sharp objects. These are best cleaned when hand-washed and machine cleaning may also reduce life of the utensils as industrial dishwasher soap is abrasive. Fragile items such as glasses or china dishes must be hand-cleaned for improved results. Once done with the dishes, move along towards the kitchen and give it a deep clean treatment.
Organise the clutter
Whether bedroom, dining or living room; get rid of the entire clutter first that frequently get in the way of cleaning. Compile the papers, discard if waste or make a folder lest they're important documents. Make sure you rid the trash in the bin rather than hiding it under a carpet. An easy way is to take along a garbage or laundry bag wherever you clean. This would save time and effort of going back and forth.
Floor cleaning
Before you buy a standard floor cleaning solution, determine the type and quality of the floor be it wood, ceramic, linoleum or carpet. Cleaning techniques vary to the type of floor such as you don't want to ruin the surface with harsh chemicals! Floor cleaning can get tough if you've pets that are shedding during the season. This is why you should sweep the floor surface first with a broom and then mop using luke-warm water mixed with floor cleaner or bleach. Don't ever mop the carpet with this water or else you'll end up ruining the entire thing.
Conclusion
Follow the approach and work your way in all the rooms starting from the living room. The above details outline different طرق تنظيف المنزل (Ways house cleaning) in a more effective manner.